After the third train derailment at Amsterdam Central Station in two months, I was forced, yet again, to consider alternative ways of getting to Amsterdam. Today, I thought it would be fun to take the ferry from IJmuiden. All was smooth in the morning. The nice girl behind the counter even saved me 3 euros by reminding me that my Student's Public Transport card (OV-Studentenkaart) was valid there, too.
Some funny things happened on the way back, though. First, I ran in to this: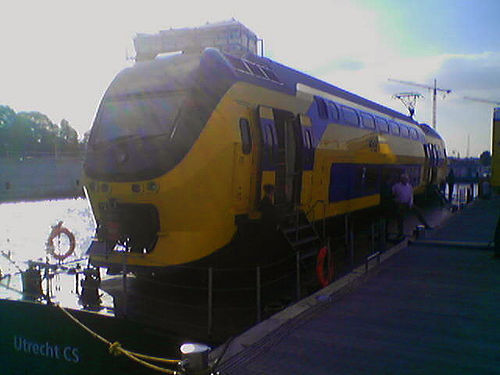 This is a promotional thing from NS, to be used during SAIL '05. I knew it existed, though I hadn't seen it up close before.
After getting on the boat (took some time, because there were too many people so I had to wait for the next one) we went on our way. About five minutes later, the captain asked all the people in the front part of the boat (12, including me) if we could please move to the back of the thing because it couldn't get the nose upwards (it was one of those flying boats, for lack of knowing the real name). It made some speed, got the nose up and we could all move back. People applauded.
Some ten to fifteen minutes later, we cross a submarine. Didn't see that coming (snigger). Complete with 30-or-so marines waving at us.
And about that waving-- what is it with boats and people on them? Damn near every boat we crossed or passed got waved at by the people with me. And it's not just that those people were imbiciles, the people on the other boats all returned the favour. I just found that really odd.